I've never been one to buy a lot of make up, but living in Tucson makes you deprived from a lot of things, including Sephora! We've got Ulta and a MAC store that's ridiculously far from my house (OK so its only 30 minutes), but luckily there's a MAC in Dillard's at the Park Place Mall. So, when I went back home to Hawaii for a couple weeks, I went absolutely crazy in Sephora! Then I splurged some more in MAC, which I will digress for a moment and tell you my horrible experience.

Mind you, I am a fresh new make up addict looking for new colors. An artist suggested MAC's Brule to me as a highlighter, and although you can barely tell it was on my face, I was completely in love with it. So, in search for MORE colors, my friend & I walk into the MAC store. Of course, one of the girls walks up to us and asks if we needed help. I told her I needed help finding shades of brown that looked nice on me. This girl says, "Any brown will do." without even suggesting colors to me! I've never walked into a MAC store before I bought Brule, mostly because I was intimidated and had no clue what I was doing, but geez a little help? Isn't that what she's there for? She proceeded to be very rude not suggesting colors at all and staring us down like we didn't belong in there. I was pissed, considering I was prepared to drop $100+ on new colors - I told you I had gone mad. So we went to the little MAC counter in Macy's and spent all my money there. lol We had to go back though because my friend really wanted Hepcat and Macy's was totally out and she told the manager how rude she was to us. haha!

So, that's my sob story. I bought a bunch of colors that day and I signed up for the e-mail notifications too, and when I got back to Tucson, I got the Friends & Family in my e-mail so my sister and I drove all the way to the MAC store and spent over $200, so now my collection looks like this:


=] Not to mention all that other stuff I hauled from Sephora! Of course, my collection isn't as extensive as make up veterans, but it's a start. I wasn't used to wearing so much make up before, the most I'd ever put on is powder, mascara, eyeliner, and lip gloss, but I've been so obsessed lately it's not even funny. My current favorite look is the Coral & Wild Mango Look from Vanessa. I found her blog randomly when I searched Google images for "eyeshadow", one of her FOTD pictures came up. My look is a little toned down from Vanessa's but I love it. lol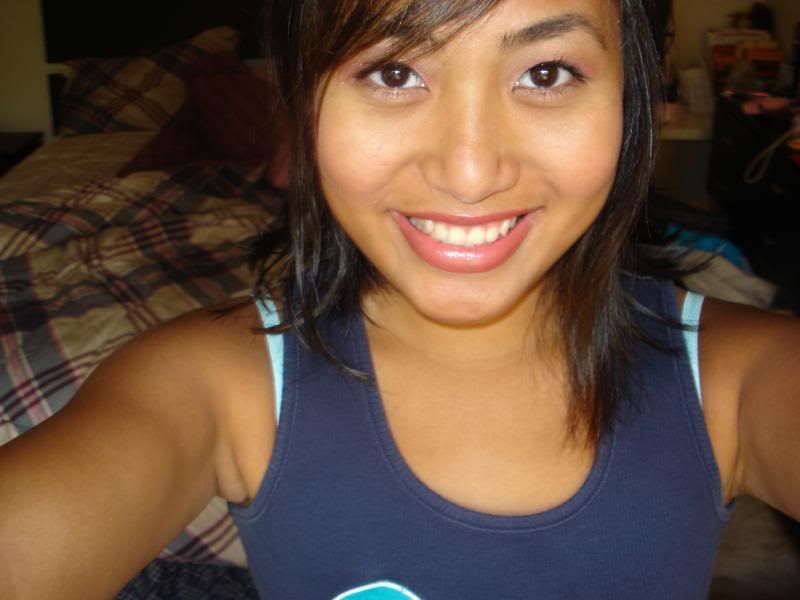 FACE
+ Clinique Almost Powder Compact in Deep Honey
+ Too Faced blush in Peach [Quickie Chronicles: Bathing Beauty]

EYES
+ MAC Prep + Prime Eye in Medium Dark
+ MAC e/s in Brule all over lid
+ MAD Minerals e/s in Wild Mango outer v & crease
+ MAC e/s in Paradisco all over lid
+ MAC e/s in Grain highlight
+ MAC Brow Shader in Maple/Charcoal
+ Stila Smudge Pot in Black
+ Sephora Atomic Volume mascara in Black

LIPS
+ MAC Slimeshine in Gaily
+ MAC Tendertones in Take A Hint

Did I tell you that I'm completely in love with Slimshines? I hate wearing lipstick but I love how glossy it looks. I didn't really like the color of Gaily at first but when I put my Tendertone lip balm over it I was in love.

So obviously, I'm no expert, but I looove playing with make up!

On another note, I was bored so I took pictures with my dog too. Isn't he cute?


Don't mind me I look like crap. L0L