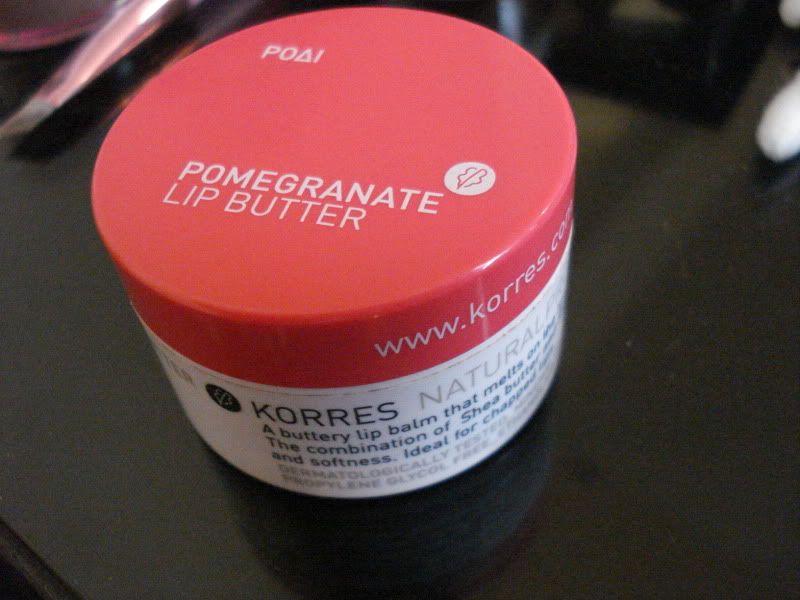 PRODUCT:
4/5
PACKAGING:
3/5
QUALITY:
4/5
OVERALL:
3.67/5
PRICE:
$10 at
Sephora
and
Ulta
WOULD I REPURCHASE?
Yes
WHAT KORRES SAYS:
Ultimate lip treatment with intensely hydrating formulas, packed with a juicy pop of color
• Shea Butter's anti-inflammatory and potent moisturising benefits cushion the skin and help to restructure it
• Rice Wax helps to seal in hydration, leaving the lips smooth all day
[taken from
korresusa.com
]
PROS
+ It feels really moisturizing when you first put it on.
+ Really feels like butter!
+ Comes in a variety of colors.
+ Pomegranate gives a nice pink color to my lips.
+ Affordable
+ Smells yummy!
CONS
+ Comes in a pot - not really sanitary
+ Says it 'leaves lips smooth all day' but after a couple hours I needed to reapply
+ Sometimes lips felt drier than before I put it on.
Overall I really liked Korres Lip Butter. A lot of other people have said good things about it so I thought I'd give it a try. My lips are always dry so I feel like I ALWAYS have to have some kind of lip balm or gloss over it or it drives me nuts! IT feels soo good when you put it on and when you touch it in the pot it's not hard like other lip balms are. True to its name it really
feels like butter
! It comes it different scents and colors: Pomegranate, Quince, Plum, Guava, Wild Rose, and Mango. I've smelled all of them at Sephora and they all smell heavenly! However, I'm not a big fan of the pot form. I felt like I needed to sanitize my hand before I used it then I had to wipe my fingers after! Sometimes I tried to carry a lip brush with me but I just felt like that was too much trouble. Also, in the winter I felt like it actually sucked the moisture out of my lips because I kept having to reapply and when I did it felt a lot drier than before. The price is pretty reasonable at $10 a pot - but when I first got this a few months ago it was only $9! If you're looking for a moisturizing lip balm with nice sheer color this is for you! But don't expect it to last all day long like it claims. I just finished my pot and I would buy this again. In fact I really want to get the Mango Lip Buter it just smells so good! If only they made this in a stick balm form I would be totally in love!
PS sorry I forgot take lip swatches! =[